In the rapidly evolving financial landscape, accountants and CPA practices are plunged into the throes of ample challenges and opportunities. For a CPA practice, the main struggle is twofold – managing and nurturing client relationships, as well as efficiently handling colossal amounts of client information. Implementing a robust CRM (Customer Relationship Management) system designed specifically for CPAs can be the gateway to carving out a place in the competitive accounting sphere.
Imagine a scenario where every piece of client data, contact information, project history, billing details, and potential leads are conveniently organized in one platform. Not only this, but the CRM system also imbues accountants with the power to track client interactions, manage tasks, and ultimately, deliver high-quality service. This picture is becoming a reality for firms that are leveraging CRM to optimize their CPA practices.
Deciding to venture into CRM adoption is the easier part. The real task lies in sifting through the plethora of options available on the market. Some of the well-renowned CRM platforms for accountants include HubSpot, TaxDome, and Capsule CRM. Each brings its unique features to the table, catering to diverse business needs.
The Top 3 Aspects to Look at While Choosing a CRM:
1. Integration Capacity: Can the CRM seamlessly integrate with existing systems and other software to streamline various processes?
2. Scalability: Can the CRM handle increasing contact capacity as the business grows?
3. Pricing: Are the budget and pricing options feasible and provide a good return on investment?
Finally, remember that the best CRM platform is one that matches the specific needs of a CPA practice, enhancing both customer service and internal communication to drive business growth.
Understanding CRM: Definition and Types
In the bustling world of accountancy, staying ahead means streamlining your operations, optimizing customer service, and gaining a competitive edge. This is where Customer Relationship Management (CRM) software, such as what we offer at Anthem CRM, comes in.
What is CRM in the Context of Accounting?
A CRM, in the context of accounting, is a dedicated software tool that helps Certified Public Accountants (CPAs) and accounting firms to collect, manage, and organize client data more efficiently. This allows firms to enhance their interactions with customers and streamline their operations, thereby providing superior value to their clients. With a CRM, firms can better understand their customers' behaviors, preferences, and purchasing habits by collecting, storing, and analyzing customer data.
Moreover, CRM software aids in process streamlining and decreases the time needed for manual chores like follow-ups, freeing up time for activities that promote sales growth. Tracking interactions and providing individualized experiences enables organizations to manage customer relations better and provides a clear snapshot of their consumer base.
The Three Main Types of CRMs: Collaborative, Operational, and Analytical
Now that we've established what a CRM is in the context of accounting, let's delve into the three main types of CRMs: collaborative, operational, and analytical.
Collaborative CRMs are designed to share customer information among various departments like sales, marketing, and technical support. This allows for a unified approach to customer service, ensuring every team is on the same page with customer interactions and transactions.
Operational CRMs, on the other hand, streamline the business process, including sales, marketing, and service automation. The primary goal of this type of CRM is to generate leads, convert them into contacts, capture all required details, and provide service throughout the customer lifecycle.
Lastly, Analytical CRMs are designed to analyze customer data effectively to assist in making business decisions. They use techniques such as data mining, correlation, and pattern recognition to analyze customer data and generate insights about customer behavior and customer preferences.
Choosing the right type of CRM depends on your firm's specific needs and objectives. Whether it's enhancing collaboration, streamlining operations, or gaining analytical insights, implementing a CRM solution can significantly enhance your CPA practice's productivity and efficiency. Stay tuned as we delve deeper into how a CRM can revolutionize your accounting practice in the following sections.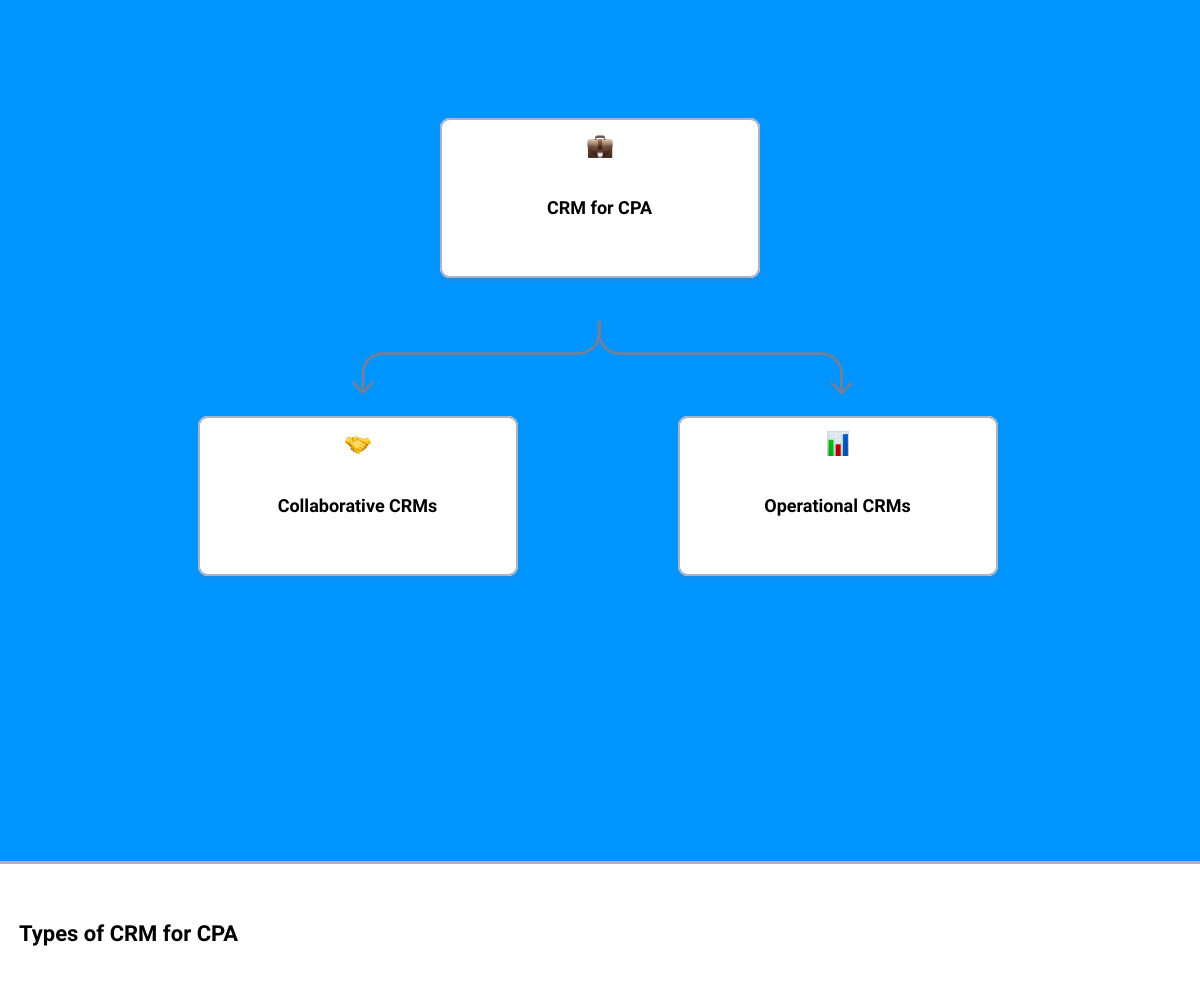 The Role of CRM in Accounting: Why Accountants Need CRM
In the fast-paced world of accounting, staying organized and efficient is paramount. This is where a CRM solution steps in to transform the way accountants manage their work. A CRM, or Customer Relationship Management system, is not just a tool but a strategic approach to managing client relationships and improving business performance. From centralizing client information to automating client interactions, and managing both new and existing client relationships, a CRM is a game-changer for accountants and CPA practices.
Centralizing Client Information
One of the main reasons why accountants need a CRM is to centralize client information. With a CRM for accountants, all client data, including contact details, project history, and billing information, is stored in one place. This makes it easy for team members to get a quick overview of all client-related information and access it whenever required. The need for digging through folders and files is eliminated, thereby ensuring that no client data falls through the cracks.
Moreover, a CRM system allows accountants to easily store and manage documentation related to clients such as contracts, proposals, and invoices. This centralization of data leads to improved efficiency and effectiveness, helping the firm deliver prompt and effective service to its clients.
Automating Client Interactions for Efficiency
Automation is another key advantage of using a CRM in accounting. CRM solutions can automate repetitive tasks such as invoicing, generating financial reports, and tracking customer activity. This automation capability not only reduces manual workload but also minimizes the chance of human error.
In addition, a CRM can be integrated with marketing tools to automate lead generation efforts. This integration allows accountants to monitor the success of marketing campaigns and identify what works best for client acquisition and retention. Such automated processes result in increased efficiency and productivity, freeing up staff for more critical tasks.
Managing New and Existing Client Relationships
Managing relationships with both new and existing clients is a crucial aspect of any CPA practice. A CRM system helps manage these relationships by providing tools to track client interactions, manage appointments, and analyze client data to better understand their needs and preferences.
With a CRM, accounting firms can build stronger reputations by improving internal and external communication. They can manage appointments and deadlines efficiently, ensuring that clients receive the best possible service. By improving client relationships, a CRM can ultimately help accounting firms build their reputation and establish a strong brand in the industry.
In conclusion, a CRM is an essential tool that can significantly enhance the efficiency and effectiveness of any CPA practice. By centralizing client information, automating client interactions, and managing client relationships, a CRM can revolutionize the way accountants work, leading to improved client service and increased business success.
In the next section, we will delve into the key features to look for when evaluating CRM solutions for your CPA practice. Stay tuned!
Evaluating CRM Solutions: Key Features to Look For
In the world of accounting, not all CRM systems are created equal. It's essential to choose a solution that can seamlessly integrate into your existing workflow, scale with your growing business, and fit within your budget. Let's break down the key features you should consider when evaluating CRM software for your CPA practice.
Integration with Other Software Systems
In a profession where precision and efficiency are paramount, the ability of a CRM to integrate with other software systems can be a game-changer. Seamless integration can eliminate repetitive data entry, reduce errors, and streamline your operations.
Our Anthem CRM, for instance, is designed to integrate smoothly with various services and platforms, providing a unified user experience. This includes connectivity with popular payment processors, eCommerce platforms, email marketing solutions, accounting systems like QuickBooks and Xero, social media networks, and even chatbots. When choosing a CRM, ensure that the platform is compatible with your existing systems and services.
Contact Capacity and Scalability
As your client base grows, so will your need for a robust CRM system. A scalable CRM solution can accommodate an increasing number of users and clients without major disruptions, ensuring a smooth transition as your business expands.
At Anthem CRM, we understand the importance of scalability. That's why our CRM platform is designed to grow with your business, accommodating increasing numbers of users and customers seamlessly.
Budget and Pricing Options
Price is a crucial factor to consider when choosing a CRM software. You need a solution that fits within your budget without compromising on the features you need. Look for a platform with flexible pricing options to ensure you're not paying for more than you need.
We at Anthem CRM believe in providing value for your money. Our flexible pricing options are designed to accommodate businesses of all sizes, from startups to large enterprises. And, if you want to try before you buy, we offer free trials of our software.
Remember, the cheapest option isn't always the best. Consider the features offered and how they can benefit your business to ensure you're getting the most value for your investment.
In conclusion, when evaluating CRM solutions for your CPA practice, focus on the features that will bring the most value to your business. Consider the software's integration capabilities, scalability, and pricing options. And remember, the right CRM solution can revolutionize the way you manage your client relationships, leading to improved efficiency and business success.
Top CRM Solutions for CPA Practices
The world of CRM is vast and varied, offering a multitude of platforms tailored to different industries and business needs. For CPA practices, the ideal CRM software should support both client management and data organization, while fostering strong client relationships. Here are some top CRM solutions that are well-suited to CPA practices:
Accelo: Comprehensive Management of Sales, Projects, and Billing
At the forefront is Accelo, an integrated platform built for the needs of professional service businesses. This cloud-based solution offers a wealth of features, from sales management to project tracking, and even billing and scheduling. Accelo's strength lies in its complete package that enables you to run your business from prospect to payment. A prime example of its efficiency is Vector Business Solutions, where CEO Susie Schade claims Accelo saved her business 200+ hours per year.
Insightly: Connecting with Customers and Aligning Teams
Insightly is a CRM software used by more than 25,000 companies worldwide. It's designed to help you connect better with customers and align your teams. It automates CRM processes, triggering tasks, updating data, and keeping everyone in the loop. As Rita Ward, Overseer of Outbound Telesales with 4over, LLC, puts it, Insightly has led to "greater efficiency and improved record keeping."
Keap: CRM, Sales, and Marketing Automation in One
Formerly Infusionsoft, Keap is an all-in-one package that offers CRM, sales, and marketing automation. One of its main selling points is its ability to help businesses never forget to follow up with leads and clients.
Hubspot CRM: Increasing Leads and Streamlining Customer Service
HubSpot's CRM offers a free platform that scales with your business. It's cloud-based, meaning no additional strain on your system resources and it's accessible anywhere, anytime. HubSpot is an ideal choice if you're looking to test the CRM waters before making a full commitment.
Zoho: Customizable CRM for Growing Businesses
Zoho is a free CRM that offers robust integration capabilities. It's simple to use and highly rated by users, making it a dependable choice for your CPA practice.
Capsule CRM: Improving Client Relationships and Acquisition
Last but not least, Capsule CRM makes the list for its powerful contact management system. It's designed to help you build strong relationships with your clients and keep track of your contacts.
Choosing the right CRM for your CPA practice is key to optimizing your operations and improving your client relationships. Each of these solutions offers unique features and benefits, so take the time to evaluate which one is the best fit for your needs. Remember, a strong CRM is not just a tool – it's a strategic investment in the success of your CPA practice.
Case Study: How CRM Transformed an Accounting Firm
Imagine a world where you no longer have to worry about losing track of client information, manually inputting data, or forgetting important tasks. That's the reality for many accounting firms who have embraced CRM software. Let's take a closer look at the transformation a CRM can bring about, through the lens of TaxDome, a comprehensive CRM designed specifically for accounting firms.
TaxDome: Comprehensive CRM for Accounting Firms
TaxDome, a top-rated CRM for tax professionals, is a prime example of how the right CRM can revolutionize an accounting practice. With a suite of tools aimed at enhancing client relationships, centralizing data, and automating tasks, TaxDome has empowered countless accountants to scale their businesses and increase efficiency.
One of the key features that sets TaxDome apart is its automation capabilities. Tasks like client follow-ups, data entry, and even onboarding new clients can be automated, freeing up valuable time for accountants. This not only increases efficiency but also reduces the risk of errors, enhancing the overall client experience.
TaxDome also offers an intuitive, easy-to-use dashboard that provides a clear overview of client accounts, tasks, and progress. With unlimited data and up to 1 million contacts, it's a highly scalable solution that can grow with your practice.
But perhaps the most transformative aspect of TaxDome is its centralization of data. Having all client information, communication, and tasks in one place eliminates the need for multiple systems and makes it easy to access and manage client data. This not only simplifies operations but also ensures that important information is always at your fingertips, no matter where you are.
The choice to implement TaxDome has proven to be a game-changer for many accounting firms. It's not just about having a tool to manage client data; it's about having a comprehensive solution that can streamline operations, automate tasks, and ultimately, drive business growth. And with plans ranging from free to premium, TaxDome offers options for every budget.
In the words of a satisfied TaxDome user: "TaxDome provides all you need at the tip of your fingers. Your contacts and leads can be easily organized in stages/cycles. You can easily keep track of newly started deals and deals that are just seconds away from closing. You have all the tools for automation and generation in just a few clicks of a button".
As we can see from this case study, a robust CRM like TaxDome can truly transform a CPA practice, making it more efficient, scalable, and successful. But remember, the key to finding the right CRM lies in understanding your specific needs and evaluating how different CRM solutions can meet these needs. So, are you ready to revolutionize your CPA practice with a CRM?
Conclusion: The Future of CRM in CPA Practices
As we have seen, CRM solutions are no longer a luxury but a necessity for any CPA practice that aims to stay competitive in today's fast-paced digital world. They offer a wide array of features, from automating administrative tasks to managing client data and improving communication. However, the future of CRM in CPA practices holds even more promise.
The ongoing advancements in AI and machine learning are expected to bring about a new wave of innovation in CRM solutions. This could include features like predictive analytics, which uses historical data to forecast future trends and behaviors, helping CPA practices to anticipate client needs and make data-driven decisions. Moreover, we anticipate to see more seamless integrations with other software systems, making it even easier for CPA practices to manage all aspects of their business from one central hub.
Furthermore, the trend towards cloud-based CRM solutions is likely to continue, offering even more flexibility and accessibility. This means that you can access your client data and manage your tasks from anywhere, anytime, which is crucial in today's increasingly remote and mobile workforce.
At Anthem CRM, we are committed to staying at the forefront of these developments and offering the most innovative and effective CRM solutions for CPA practices. We understand the unique challenges that CPA practices face, and our CRM solutions are designed to address these challenges, helping you to streamline your operations, improve client relationships, and ultimately, grow your business.
Remember, the right CRM solution is not just about the features it offers, but how well it aligns with your business goals and needs. Therefore, we encourage you to take advantage of our free trial to experience first-hand how our CRM solution can benefit your CPA practice.
In conclusion, the future of CRM in CPA practices is bright, offering numerous opportunities for growth and success. By making the most of these opportunities, CPA practices can not only survive but thrive in the competitive accounting landscape. So, are you ready to embrace the future of CRM and take your CPA practice to new heights?